What's New Page:

New Happenings!
This is the place to check for new items of interest. I will put new links for services here, such as the "World of Fire Report" sign up, and the Motorsports Protection Forum link, and the link to Fire Rescue On Line Forum. New announcements will go here such as that for Steve Donovan's new radio show. I may not list everything I update on this page, so to be sure that you don't miss anything, be sure to glance at all of the pages. Be sure to look for the new pictures that are posted on the "Photos Page"
I would like to take this opportunity to welcome back to the air, Steve Donovan. He has a new radio show called "Around The Track" dedicated to auto racing. It airs on Monday evenings at 6:00 PM. Tune your radio dial to AM 1170, KJOCK.
Here are the links to navigate to the original part of the site: Click here to go the the Home Page, About Us, Contact Us Motorsports Protection Forum , Fire Rescue On Line Forum.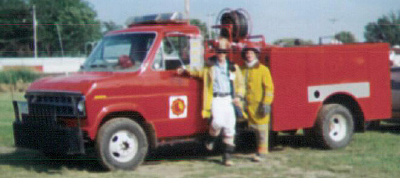 New Items:
If anyone has ideas for ways to improve this site, or has requests for items they would like to see, please feel free to e-mail the webmaster and let your comments be known!
The Webmaster is proud to announce that this website is now ranked world wide from Webs most linked.com. This is all thanks to the visitors of Speedway Fire/Rescue! Thank You!
I have written some race schedules for a few of the tracks we work at. Click on the link to view it, and use your browsers back button to get back to this page. Farley Speedway , Davenport Speedway , West Liberty Raceway .
Scanner Frequencies
Here is something that I hope will be used frequently. Now that Speedwayfire.8m.com is an affiliate site of Emergency-World.Com I agreed to link up to the Chat Room, it is an open room for all ages, so please behave yourself in there.
Another great addition to the team effort: A forum to discuss all aspects of Motorsports Safety Work, and other forums for all of Emergency Services topics. Please use these regularly. You will have to register the first time you want to post a message, but to view what is there, just look around. These things have been put up for you to use and enjoy, with our thanks. While you are there, stop by and sign the guestbook of Emergency World, and let Dennis know what a great job he is doing there.
Here is a special offer; This site has been authorized to be a sign up location for the "WORLD OF FIRE REPORT". Now you can have reports of fires, and emergency events e-mailed right to your desktop!